Dear Scott,
My brand new book, hot off the presses, is called Oh, the Places Your Ego Will Go. I feel so proud, grateful, and excited I feel like I did with my daughter, that I had to show pics whether people appreciated or declined (in their body language). This is how it looks, back and front.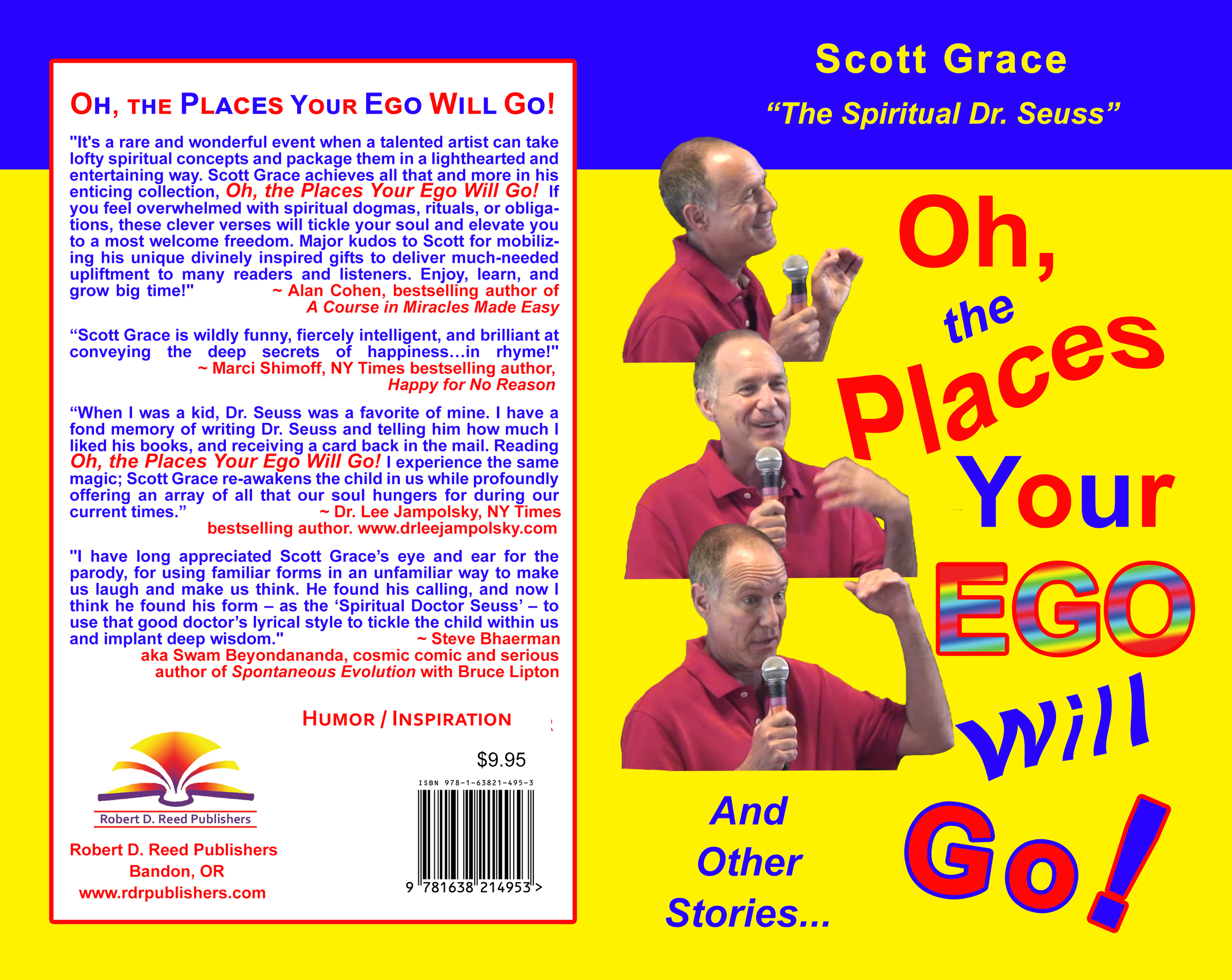 What is in it?
It's all six of my Spiritual Dr. Seuss performance pieces in written form.
Frankly, it's so inexpensive, non-threatening, free of dogma, short, funny, etc. I can't imagine a more perfect gift for yourself and loved ones, this time a year and any!
Here's the intro:
INTRODUCTION to Oh, the Places Your Ego Will Go!

In this here book says my logical mind
This should be the time when I simply don't rhyme
I'm trying, I'm trying, I'm doing my best
And as you can see I'm not having success

"But this is the intro," says my critical critic
"Time to be grown up and more analytic"
"Piss off," says the Seussian part of my brain
No need to deter from the rhyming refrain
Let this be a joy from beginning to end
We might not make millions but we'll surely make friends

And you my dear reader, you're already endowed
With the rhythm inside so just read this out loud
And if anyone grimaces, bitches, or moans
Just say, "Hey, all is well I am on my cell phone!"
And if they say, "Please take your words somewhere else,"
Read these rhymes by your wacky and whimsical Self

Think of this book when your heart wants to send
A gift to religious or atheist friends
We studied each page through a microscope's lens
And found that it's all dogma-free till the end

Let it rest in the restroom or maybe your bed
May it open your heart as it tickles your head
And now take a breath and get ready to feast
On dessert that is healthy and leads you to peace